E-publication market is growing at an incredible speed worldwide, and "DEVICES" and "MARKET PLACES" are upgrading.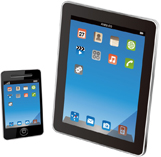 But, how about "CONTENTS"?

Most of the "CONTENTS" sold at E-publication market are just converted versions of already published "BOOK", so to say.
There are only few "CONTENTS" produced specially for new "DEVICES", seeking a capability of new way of "EXPRESSION".
What we, Comic Animation Inc., have focused on is those very "CONTENTS".
"MANGA - comic", and "ANIME - animation", are the splendid culture that JAPAN boasts to the world, and there are many talented creators who have been fostering this culture.
What are they going to produce e-puplishing "CONTENTS"?
What is a new way of "EXPRESSION" for new "DEVICES"?
To work it out, we have set up the project and named it "Comic Animation".

Each Comic animation "CONTENTS" are quite different.
The way of "EXPRESSION" for new "MANGA" style depends on ideas of Creators.
Please enjoy the flash of Creators!
Applications are available at Apple iTunes App Store.

Top of this page▲